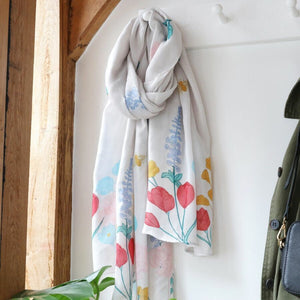 A lovely addition to any wardrobe, adorned  with pretty spring flowers.
Super soft and lightweight, this ladies' summer scarf is comfortable and easy to wear, and the neutral tones of the scarf make it ideal for pairing with similar cool shades. 
Made from 100% polyester, a perfect gift to give, with beautiful tones this scarf will bring style outfit its paired with.
Width 99cm x Length 184cm

Recycled 40% reprieve polyester and 60% polyester