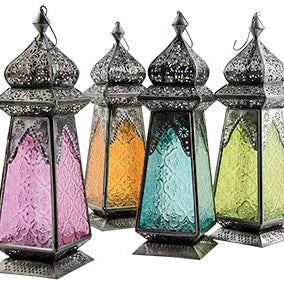 A tall Moroccan style lantern with recycled iron and patterned glass. With a square base and ornate iron work, it looks great when unlit too. Fitted with an easily accessible door panel and ring handle, it creates a gentle ambient light indoors or outdoors.
Can be hung or displayed as a free standing décor inside or outside to create an authentic Moroccan atmosphere. 
Over spilling with character and creative décor options, this fabulous centre piece rests on a dining table or shelving unit- illuminating dinner parties, garden gatherings and bath time! Banishing the darkness in style, it's no wonder we are waxing lyrical about these candle lanterns.
Dimensions: 

10.5 x 10.5 x 35 cm

Materials: 

Recycled iron & textured glass