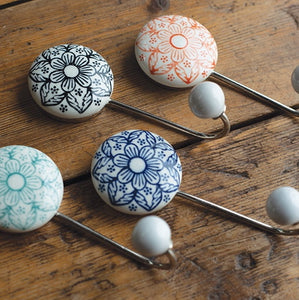 Handcrafted long wall hooks made of metal with hand painted ceramic to an antique style, in classic bold and subtle pastel colour choices.
These traditionally hand fired hooks produce a wonderful authentic appeal. A fair trade item, they would suit well in any room in your home. 
Due to the unique nature of the hand painting each hook can be slightly different to the next.
Dimensions :

 6 x 13.5 x 6cm